Features
Digital control, Large current output, Non-Isolated type POL DC-DC Converter.
-Output voltage preset accurecy ±0.5%
-Small foot print, high power density
-High speed load response
-Serial communication(PMBus) enables setting change and monitoring
-Low ripple noise 15mVpp
-ON/OFF control
-Parallel operation function(Derating is required)
-Operating temp range -40℃ to +85℃ (Derating is required)
-RoHS Compliant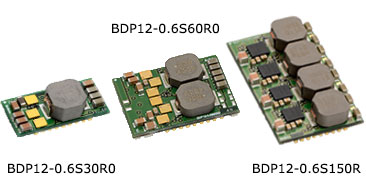 Specifications
Part Number
Input Voltage
Output Voltage
Output I
Line Reg.
Load Reg.
Ripple Noise
Efficiency
Size
Datasheet
Buy online
Vdc
Vdc
A
%(typ.)
%(typ.)
mVpp(typ.)
%(typ.)
(WxDxH/mm)
BDP12-0.6S30R0
12
(8.0~14.0)
1.2
(0.6~1.5)
0~30
1
0.2
15
86.6
28.2×13.4×10
BDP12-0.6S60R0
12
(8.0~14.0)
1.2
(0.6~1.5)
0~60
1
0.2
15
89
32.8×23.0x8.0
BDP12-0.6S150R
12
(8.0~14.0)
1.2
(0.6~1.5)
0~150
0.2
0.2
15
90
28.2×43.7×10
Turn-on and turn-off sequences can be configured(via PMBus)

Parallel Operation (via PMBus, Derating required)
High current balance in parallel operation is achieved via serial communication (using exclusive Bus).
※To download Application Note of parallel operation, click here.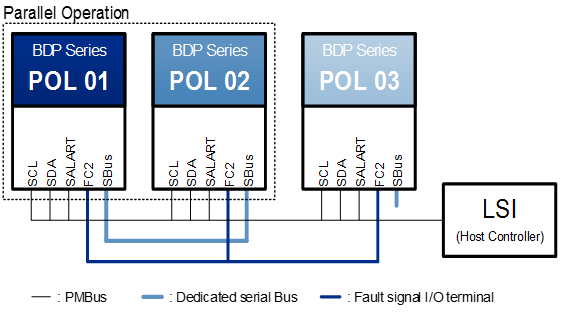 2 types of Serial Communication Buses
Settings can be changed and monitored during operation via serial communication (PMBus).