mbed™ board GR-PEACH
The RZ/A1H deployment made in Renesas Electronics Corporation
The world's first mbed™-adaptive board using "ARM®Cortex®-A series"
GR-PEACH
As board of "ARM®Cortex®-A series" use, we participate in ARM®mbed™ project for the first time in the world
We provide embedded system environment that is high efficiency, tall handloom ability that was not able to be realized easily in "Cortex-M".

Merit of mbed user by RZ/A1H adoption
Microcomputer that RZ/A1H has Cortex-A9 (industry ratio approximately 2 times) which is high-performance CPU of 400MHz, large-capacity built-in RAM (industry ratio approximately 30 times) of 10MB, camera input / graphics output / audio system function.
By CMSIS correspondence for Cortex-M, we can transfer software assets of "Cortex-M" to "Cortex-A9".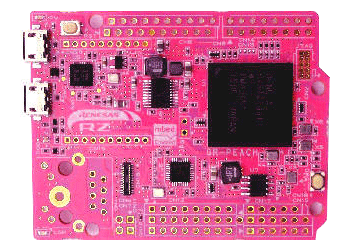 GR-PEACH
Embeds ARM Cortex-A RZ/A1H (R7S721001VCBG)
Arduino UNO pin compatibility supports various shields.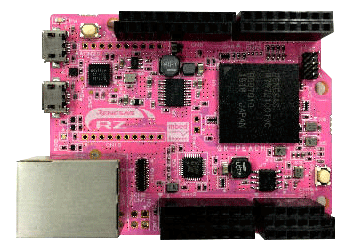 GR-PEACH-FULL
GR-PEACH board equipped with LAN connector (RJ-45) andconnectors for Arduino UNO compatible pins and service pins.
Product Specifications
Maker name
Model number
Remarks
MPU
Renesas Electronics
R7S721001VLBG
Cortex-A9 RZ/A1H BGA 324pin RAM10MB Max:400MHz
FLASH ROM
Macronix
MX25L6435EM2I-10G
8MByte SOP 8pin (SPI Multi I/O)
External Memory
ALPS
SCHA4B0400
MicroSD Card SLOT (SPI)
Communication I/F
Micro USB
JST
UB-MC5BR3-SD204-4S
RZ/A1H side MicroUSB Connector (HOST/FUNCTION)
Mbed-IF side Debug/Programming MicroUSB Connector
Ethernet
MICROCHIP
LAN8710A
10/100BASE-TX -RJ45 Jack- (※1) (※2)
Wireless I/F 1
HIROSE
DF40C-30DP-0.4V (51)
Wi-Fi Module Connector (※1) (※3)
For ROHM BP3595 (Exclusive I/F -USB / UART-)
Wireless I/F 2
Hirosugi-keiki
FSS-21043-10 x2
For Xbee Module Connector (Not mount)
Expantion Connector
Hirosugi-keiki
FSS-41085-05 x1
FSS-41085-06 x2
FSS-41085-08 x5
FSS-41085-10 x2
Arduino Compatible Pin Socket (※2)
6pin x1 / 8pin x2 / 10pin x1
Pin Socket for GR-Shield (※2)
5pin x1 / 6pin x1 / 8pin x3 / 10pin x1
Debug Connector
Samtec
PSS-720303-05
RZ/A1H 10pin JTAG Connector (CoreSight10) (Not mount)
Switch
ALPS
SKRPABE010
System Reset Switch x1
User Switch x1
LED
ROHM
SML-D12P8W
Power LED -Green- (Uncontrollable)
SML-D12U8W
User LED -Red- x1
SMLP34RGB2W
Full Color LED x1
Power Supply
VBUS 1
DC 5V MicroUSB Connector (Connected mbed-IF)
VBUS 2
DC 5V MicroUSB Connector (Connected RZ/A1H)
Vin
DC 5.5~16V (Arduino Compatible Pin -Vin- / Auxiliary Power Connector)
Board Size
53.34(W) x 67.58(D) (mm)