TT in Advance (Bank transfer)
This is a method of payment where products are arranged for shipment after payment is made to the bank account stipulated by Chip One Stop in the notification e-mail sent after an order begins to be processed.
Please complete payment within 2 Chip One Stop business days after order. Product will be arranged for shipment once payment is confirmed. If payment is not completed within 2 days after order has been processed, your order will be cancelled.

Please check the notification e-mail for the delivery date of product.

Customers are responsible for paying the bank transfer fee.

Please make payments to the bank account stipulated by Chip One Stop in the order registration notification e-mail. (An account number will be issue each time.) Product will be prepared for shipment after confirmation of payment. Please complete payment within 2 Chip One Stop business days after date of order. Please note that the customer shall be responsible for paying the bank transfer fees.

Credit card payment
Please select credit card (Visa, Master, JCB and AMEX) as payment method on the "Set Order Conditions" page and enter card number and expiration date. Approval of credit will be done immediately.
The card information you enter will be processed securely by SSL encrypted communications

Credit account payment (Net 30) * Application required
This is a payment method where payment is made through an account for members who have completed a screening process. Net 30 payment term is only given to those who have been approved. Customers must have undergone and been approved for this payment method before it can be used.
You must apply for a Net 30 credit account. You can apply here.
Once you apply, there will be a screening process. If you are approved, a notification will be sent to let you know your account is now available for use. The screening process may take several days. Once this payment method is available, it will be added as one of the options for when selecting a payment method. Please note that Net 30 credit accounts are not currently available to sole proprietors who do not have corporate status, please select other payment methods.
Please note, we may not be able to comply with the conditions that you wish depending on the results of the review.
In addition, credit account (Net30) is not currently supported for members who are individual business owners who do not have corporate status. We apologize, but please use a different payment method.
If you request a credit account (Net 30), together with the "Group Function", you can unify the orders and payment of multiple users in a company and consolidate a billing address for the group. It is useful if a buyer or an accounting staff member is set as the primary member of the group. Click here for more about the group function.

Alipay
Alipay is only available in China Mainland and Hong Kong.
You can apply for this payment method from here
* If you cannot open the application form, contact us from here.
* If you need the basic trade contract for the transaction, contact us from here.
* Please note that this is a service for corporate members, in principle.

Please be advised that members must undergo the screening process prescribed by us in advance. Please refer to here for an application.

Currency
You can choose to pay using USD, JPY, AUD, NZD, EUR, and RMB, depending on the country you are ordering from. Please check which currency are available when you create an account.
Step 1
Go to chip1stop.com and click "Login"
You can check your current selected currency at the top right of the page



Step 2
Select the currency you prefer to use.
After you confirm the currency has been changed, add parts to your shopping cart.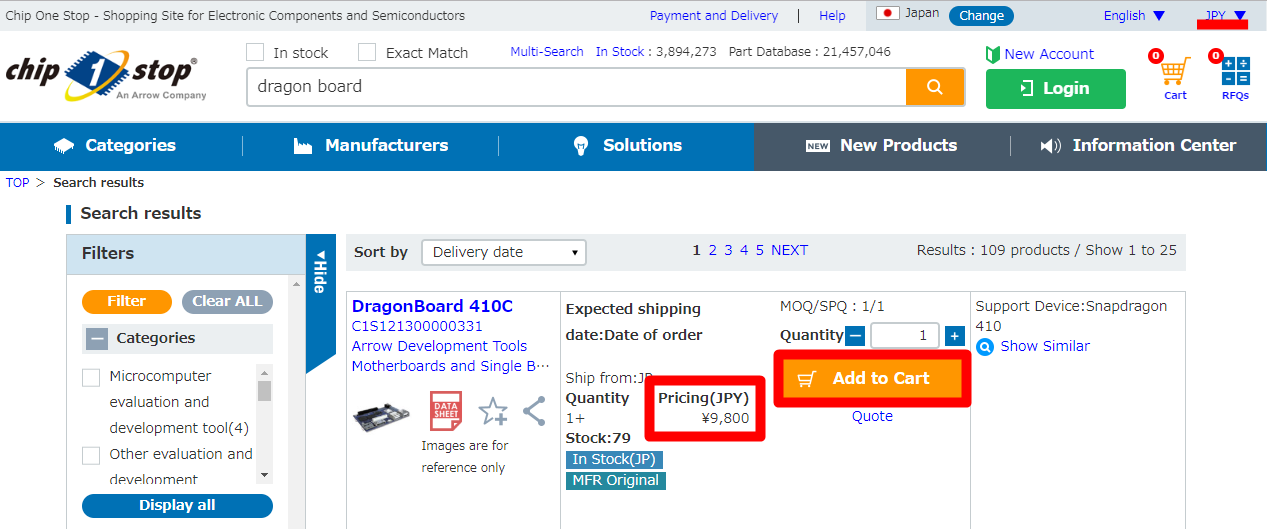 Step 3
Click the shopping cart icon and click "Next".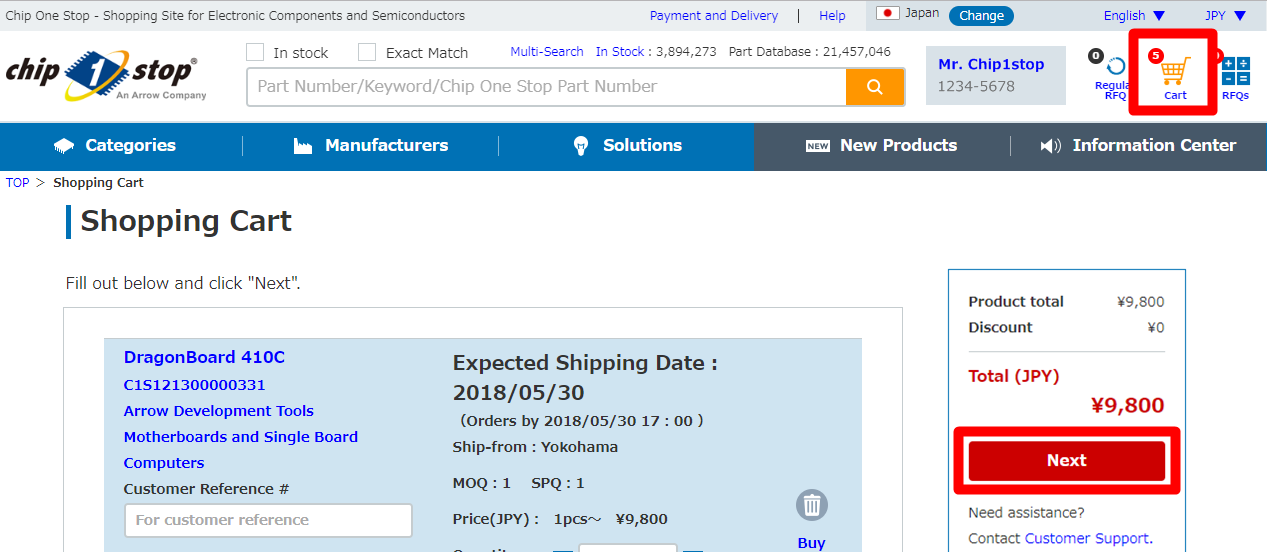 Step 4
Click "Apply for new customer number".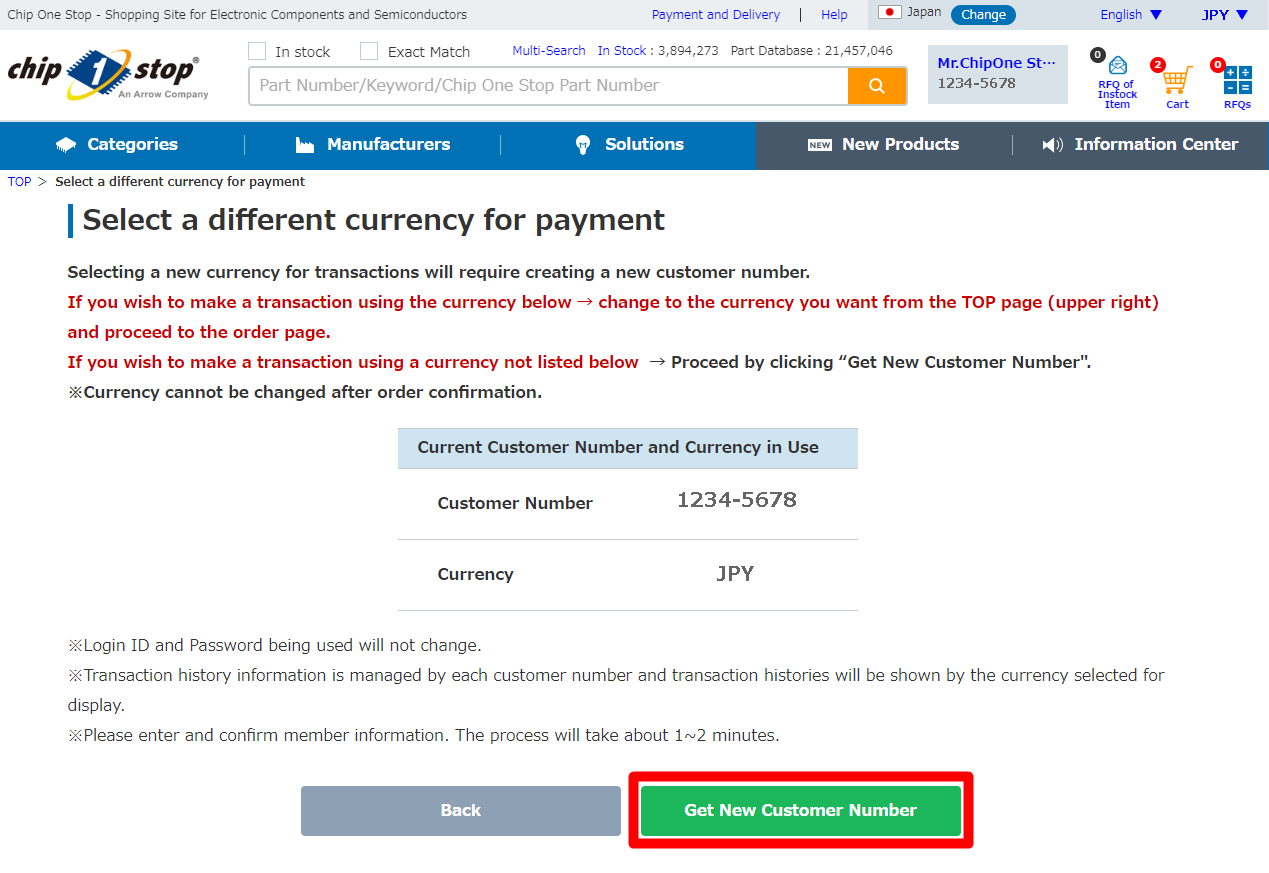 Step 5
Fill out the form below and click "Next".
*You need to agree to Chip One Stop's Privacy Policy and Terms of Use when creating a new account.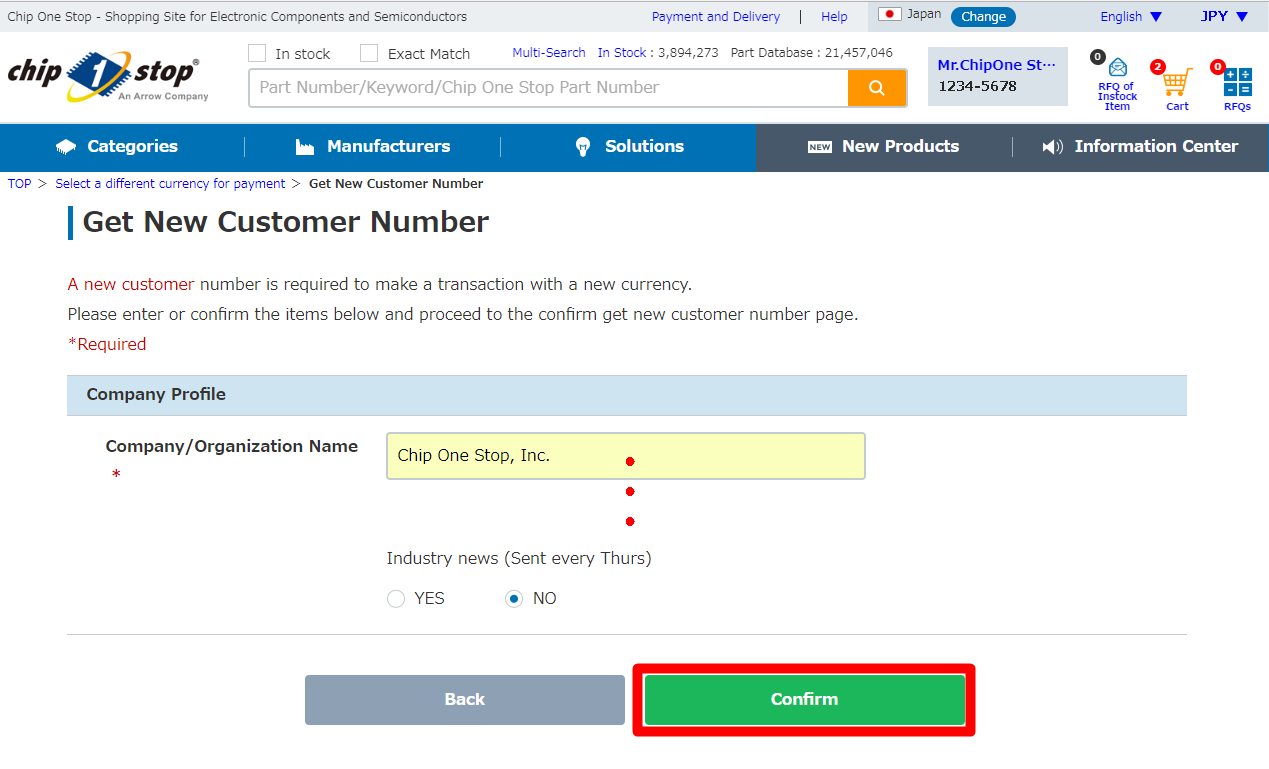 Step 6
Your new currency account is now setup. Click on "Go back to shopping cart" to complete your order. You will be able to select which currency you wish to use for future orders under the same customer ID.